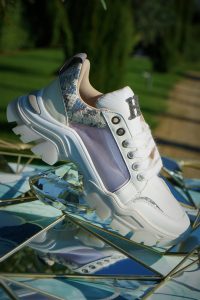 Helena Soretti is a young Italian brand that has become very famous in Italy in a relatively short time and continues to conquer the hearts of fashionistas around the world.
The designers of Helena Soretti FASHION HOUSE create incredibly comfortable, high-quality and sexy shoes.
They are a team who combines the experience, creativity and passion in shoes creating.
Models, that are made of the best types of leather and distinguished by rich colors, combine the best materials, technology, tradition and innovation of the Italian footwear industry.
Each product from Helena Soretti is subject to mandatory quality control.
At the same time, by optimizing the management, we were able to achieve a more acceptable price policy.
Each pair of shoes is literally charms, penetrates to the heart and wins the consummate Italian chic and perfect quality.
Helena Soretti is not just a name, but it is a style that extorts our admiration!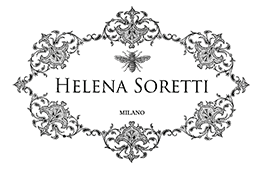 "Sapere il segreto per conquistare una donna?
Niente fiori…niente cioccolata…SCARPE!
Occupatevi dei suoi piedi e lei si occupera del vostro cuore!"
Designer's Italian shoes
How many times have you looked for a pair of comfortable shoes that would fit your expectations? I'm sure a lot.
It's nice if you know what you are looking for. But most of the time you have no idea. That's what scarpe lookbook is for. Our lookbook includes a fair amount of Italian shoes to choose from. We deliver the quality you want.
Italian shoes crafted for you
If you are tired of similar designs that offer other companies, visit our showroom in Palestro (20, Palestro st, Milano), where you can find unique designers shoes handcrafted by professionals. Every time you put them on, you have a feeling of Italian high quality footwear on you. You'll dive deep into our showroom and find the shoes you are looking for. By wearing Italian brand you separate yourself from others: it makes you different and shows your interest in Italian style. It will definitely attract attention of people around you. The service at our Italian shoes showroom will make you want to visit us again.
High quality footwear
Our shoe brand attends the leading Italian footwear exhibition Micam, which visit more than 40 000 visitors every year. By wearing our shoes, you get:
unique style;
great design;
comfort you are looking for;
quality of the Italian brand.
Imagine having the brand new pair of Italian shoes on your feet. Walking downtown. Choosing a nice cafeteria and sitting outside. You cross your legs and take a sip. Your feet still have the designer's shoes on. You spend your entire day wearing comfortable Italian shoes.
Most of the people who wear our quality footwear come back and purchase more. We show, that good experience is made of quality, style and excellence. The creation of our shoes undergoes more than a 100 steps. Style is a powerful tool of expression; ours is as multidimensional as our clients are. Our experience, knowledge, and passion come through in every pair of shoes we craft.
High quality guaranteed
The shoes are always rare, always fresh, and always honestly priced. Italian seal stands for transparency and sustainability in manufacturing and guarantees the high quality of our shoes.
Italian designers are one of the best in the world. We don't get swayed by trends that come and go. We're smart enough to see beyond the throwaway, to seek out styles that will stay relevant. Modern yet timeless, we make the pieces you'll still be reaching for years from now.